The Shopkeeper
Data
Gender
Male
Status
Unknown
Originally From
Mario Bros.
Debut
RolePlay
The Shopkeeper was a man who sold items in
Hope's Peak Private Hospital
. He only accepted
Kuma Kash
as currency.
The Shopkeeper first appeared in Chapter 2, his shop was hidden underneath a fountain in a small plaza behind the hospital.
In Chapter 5, the Shopkeeper went missing. He was spotted again in Chapter 6, but he quickly vanished and was never heard from or seen again.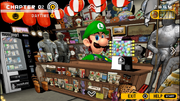 Ad blocker interference detected!
Wikia is a free-to-use site that makes money from advertising. We have a modified experience for viewers using ad blockers

Wikia is not accessible if you've made further modifications. Remove the custom ad blocker rule(s) and the page will load as expected.